Coal-dependent businesses fight to hold on, as industry shrinks
The price of coal continues climbing while natural gas is increasingly a more affordable alternative, leaving businesses dependent on the coal industry in a tight spot.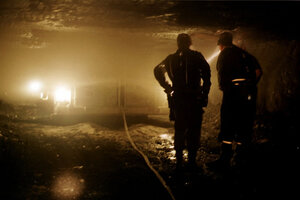 Tim Johnson/AP
Get a bigger piece of the shrinking pie.
That's how Danny Vance, owner of Service Pump & Supply in Huntington, describes his business strategy during challenging times for the coal industry and the many businesses that support it.
With the cost of mining coal rising and with natural gas becoming so competitive, the coal industry is in the midst of a battle. And Vance and some other local companies whose health is intertwined with the coal industry say they are doing what they can to fight the trend's ripple effect.
"So far we've been able to adapt and not had layoffs," said Vance, whose company sells and services pumps, blowers and other equipment used in the mines. "We're down about 15 percent, and we're very fortunate. A lot of companies like us are down 50 or 60 percent and are shutting the doors." The challenge has been the rise in the cost of producing coal compared with the low cost of natural gas, with the jackpot found in the Marcellus Shale formation that spans West Virginia, Ohio, Pennsylvania and New York.
Compared with the current affordability of natural gas, the price of coal is climbing, having gone from $43.75 per ton in 2007 to $63.78 per ton in 2011. Natural gas costs have dropped, to less than $3 per 1,000 cubic feet.
According to the U.S. Energy Information Administration's annual report released in June, higher coal exports provided some support in 2011, but U.S. coal production is projected to decline for four years thereafter as a result of the low natural gas prices, rising coal prices, lack of growth in electricity demand and increasing generation from renewable energy sources.
New federal environmental regulations are projected to take a toll on coal as well, including requirements to control emissions of nitrogen oxides, sulfur dioxide and air toxins such as mercury and acid gases. That will result in the retirement of some coal-fired generating capacity, including some here in West Virginia.
---