Obama, Romney snipe as Democratic National Convention nears
Republican presidential nominee Mitt Romney is trying to capitalize on the momentum of the RNC and football season, calling President Barack Obama a failed coach. Obama dismissed the GOP Convention as old-fashioned and said Romney failed to provide policy details.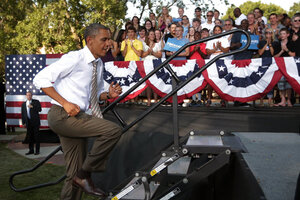 Pablo Martinez Monsivais/AP
Republican Mitt Romney cast President Barack Obama as a failed coach of a struggling team as he sought to capitalize on momentum coming out of his party's convention. Obama dismissed the GOP gathering as an event suited to the era of black-and-white TV and promised to outline "a better path forward" at the upcoming Democratic convention where he'll be nominated for a second term.
The two rivals campaigned Saturday across several battleground states expected to decide the outcome of the closely fought presidential contest. Obama was in Iowa and Colorado, part of a three-day tour that will take him to his convention opening Tuesday in Charlotte, N.C.
Romney spoke at rallies in Ohio and Florida before flying to his vacation home in New Hampshire for some time off. He and his wife, Ann, attended church services Sunday morning at the chapel of the Church of Jesus Christ of Latter-Day Saints in Wolfeboro, N.H.
Campaign officials said Romney would spend much of the Democrats' convention week preparing for the presidential debates.
At rallies in Cincinnati and Jacksonville, Fla., Romney channeled many voters' interest in the first weekend of the college football season.
"I don't like the way the way the game is going under this president," Romney said, pointing to the high jobless rate and approximately 23 million people who are unemployed or working part-time. "If there's a coach whose record is 0 and 23 million, you get rid of him and get someone new."
The former Massachusetts governor reiterated his pledge to create 12 million new jobs and make the U.S. energy independent in eight years but did not offer specifics on how he would achieve those goals.
Obama seized on the dearth of policy details outlined by Romney and other Republicans at their convention in Tampa, Fla.
---