Oil that washed ashore in Louisiana during Isaac came from BP Gulf spill
Researchers at Louisiana State University said oil found on two barrier island beaches is a match with oil from the 2010 Macondo well explosion.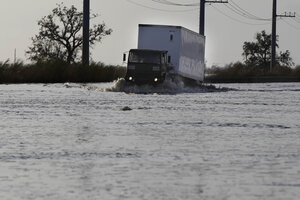 Gerald Herbert/AP
Laboratory tests show that globs of oil found on two Louisiana beaches after Hurricane Isaac came from the 2010 BP spill.
Tests run by Louisiana State University for state wildlife officials confirmed that oil found on Elmer's Island and Grand Isle matched the biological fingerprint of the hundreds of millions of gallons of oil that spewed from BP's Macondo well.
On Wednesday, BP PLC said oil from its spill had been exposed by Isaac's waves and that the company would work to clean it up.
Ed Overton, the LSU chemist who did the state tests, said the oil found on Elmer's Island had not degraded much while oil at Grand Isle had.
"Both were good solid matches on Macondo oil," Overton said.
Two other samples collected from another barrier island did not match the signature of oil from the BP well.
Experts expected that hurricane waves would stir up oil buried along the Gulf Coast and that Isaac, which made landfall on Aug. 28 and soaked the region in the days afterward, apparently did just that. Reports of tar balls washing up on beaches after the storm were reported in Alabama and Louisiana, two states that got hit hard by BP's massive offshore oil spill.
On Tuesday, scouts found what they described as a large tar mat on the beaches of Elmer's Island, prompting state officials to close a 13-mile stretch of beach and restrict fishing along that shoreline.
Still, Overton said the discovery of the buried oil does not mean that the Gulf is seeing a repeat of the summer of 2010, when oil was spewing from an out-of-control well about 55 miles off the Louisiana coast.
"This is not oil everywhere," Overton said. He said the difference between the amounts of oil being exposed now by Isaac and what the Gulf saw in 2010 is "night and day."
---