Amanda Knox: Ex-boyfriend says 'bizarre' behavior led to police suspicion
Amanda Knox, her ex-boyfriend: Raffaele Sollecito, has a new book, "Honor Bound," and it's due out Sept. 18. Amanda Knox is writing her own book, due out next spring.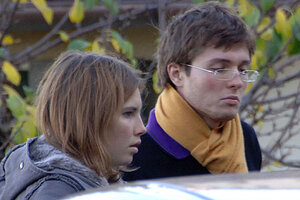 Stefano Medici/AP/File
Raffaele Sollecito, whose budding love affair with American exchange student Amanda Knox helped land him in an Italian prison for four years, maintains the couple's innocence in a new book but acknowledges that their sometimes bizarre behavior after her roommate's killing gave police reason for suspicion.
The pair was imprisoned for the November 2007 death of Meredith Kercher at Knox's apartment in Perugia, north of Rome. An appeals court overturned their conviction and freed them last fall, issuing a 143-page opinion that blasted the utter lack of evidence against them. Rudy Guede, a petty criminal who was convicted separately, remains imprisoned and is serving a 16-year-sentence.
Sollecito's book, "Honor Bound," is due out Sept. 18. The Associated Press purchased a copy Tuesday.
IN PICTURES: Amanda Knox goes home
In it, her Italian boyfriend describes how the early days of their relationship became a nightmare: the horror of Kercher's slaying; the misunderstandings that swept them up in the case; their tabloid portrayals as two suspects unrecognizable to themselves.
---