How many calories in a Big Mac? McDonald's to list calorie counts
McDonald's will list the calories on its menu items starting Monday. Federal healthcare reforms will require calorie counts on menus starting next year.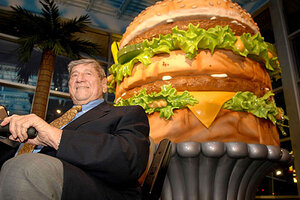 (PRNewsFoto/McDonald's/Henny Ray Abrams)
McDonald's restaurants across the country will soon get a new menu addition: The number of calories in the chain's burgers and fries.
The world's biggest hamburger chain said Wednesday that it will post calorie information on restaurant and drive-thru menus nationwide starting Monday. The move comes ahead of a regulation that could require major chains to post the information as early as next year.
"We want to voluntarily do this," said Jan Fields, president of McDonald's USA. "We believe it will help educate customers."
RECOMMENDED: Are you a real foodie? Take the quiz
In cities such as New York and Philadelphia where posting calorie information is already required, however, Fields notes that the information has not changed what customers choose to order.
"When it's all said and done, the menu mix doesn't change," she said. "But I do think people feel better knowing this information."
The decision to post calorie information follows the Supreme Court's decision this summer to uphold President Barack Obama's health care overhaul, which includes a regulation that would require restaurant chains with more than 20 locations to post calorie information. The timetable for carrying out that requirement has yet to be worked out.
---