Texas man: 'Ready to go home'
Cleve Foster, convicted of murder and rape, was put to death in Texas on Tuesday after previously receiving three stays of execution from the country's highest court.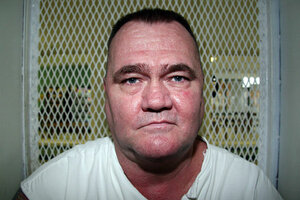 AP Photo/Michael Graczyk
Texas executed a man on Tuesday who had received three stays of execution from the U.S. Supreme Court because of questions about how forcefully his lawyers defended him.
Cleve Foster, 48, was convicted with an accomplice in the 2002 murder and rape of Nyanuer "Mary" Pal, whose naked body was found in a ditch, according to a report by the Texas Attorney General's office.
Foster had asked the U.S. high court for a fourth stay of execution but it was denied on Tuesday. He was pronounced dead at 6:43 p.m. local time (2343 GMT) at the state penitentiary in Huntsville, Texas criminal justice spokesman Jason Clark said.
The U.S. Supreme Court a year ago granted a temporary stay of execution just 2 1/2 hours before Foster was to be put to death by injection. It was the third stay from the high court for Foster, who also was granted delays in January and April 2011.
Tuesday's request for a fourth stay was referred by Justice Antonin Scalia to the full court but just three of the nine justices -- Elena Kagan, Sonia Sotomayor and Ruth Bader Ginsburg -- said they would favor another stay.
---