Supersonic daredevil skydiver touches down safely
On Sunday, Felix Baumgartner skydived 24 miles, jumping from a pressurized capsule, and landed safely on Earth. It was not immediately certain if he had broken the speed of sound.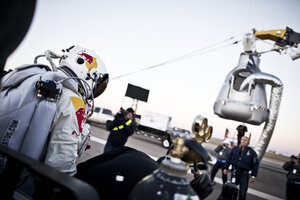 Balazs Gardi/AP
Extreme athlete Felix Baumgartner landed safely on Earth after a 24-mile jump from the stratosphere in a dramatic, daring feat that may also have marked the world's first supersonic skydive.
Baumgartner came down in the eastern New Mexico desert minutes after jumping from his capsule 128,000 feet, or 24 miles, above Earth. He lifted his arms in victory shortly after landing, sending off loud cheers from onlookers and friends inside the mission's control center in Roswell, N.M.
It wasn't immediately certain whether he had broken the speed of sound during his free-fall, which was one of the goals of the mission.
Three hours earlier, Baumgartner, known as "Fearless Felix," had taken off in a pressurized capsule carried by a 55-story ultra-thin helium balloon. As he exited his capsule from high above Earth, he flashed a thumbs-up sign, aware that his feat was being shown on a live-stream on the Internet.
During the ensuing jump from more than three times the height of the average cruising altitude for jetliners, Baumgartner was expected to hit a speed of 690 mph.
Any contact with the capsule on his exit could have torn his pressurized suit, a rip that could expose him to a lack of oxygen and temperatures as low as minus-70 degrees. That could have caused lethal bubbles to form in his bodily fluids
He activated his parachute as he neared Earth, gently gliding into the desert east of Roswell.
Coincidentally, Baumgartner's attempted feat also marked the 65th anniversary of U.S. test pilot Chuck Yeager successful attempt to become the first man to officially break the sound barrier aboard an airplane.
At Baumgartner's insistence, some 30 cameras recorded the event Sunday. While it had been pegged as a live broadcast, it was actually under a 20-second delay. Shortly after launch, screens at mission control showed the capsule as it rose above 10,000 feet, high above the New Mexico desert as cheers erupted from organizers. Baumgartner also could be seen on video checking instruments inside the capsule.
---