Prosecutors allowed to examine James Holmes' college records
The defense for James Holmes, the man accused of shooting 12 people in Aurora, Colorado, hoped to keep his college records out of the case. But on Wednesday, a judge ruled Holmes' records fair game for prosecutors.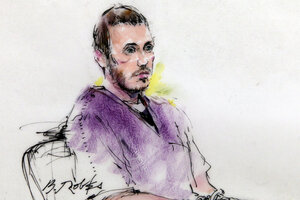 Bill Robles/AP
Prosecutors in the case against accused movie theater gunman James Holmes can see his college records that could shed light on the former graduate student's intent and motive, a judge ruled on Wednesday.
Lawyers defending Holmes sought to prevent prosecutors from viewing his records at the University of Colorado, arguing that the request was "a fishing expedition."
Holmes, 24, is accused of killing 12 people and wounding 58 others during a screening of "The Dark Knight Rises" at an Aurora, Colorado, movie theater on July 20.
---