Giants sweep Tigers away for World Series title
San Francisco won its second Major League Baseball championship in the past three years Sunday night, winning four straight against the American League champion Detroit Tigers.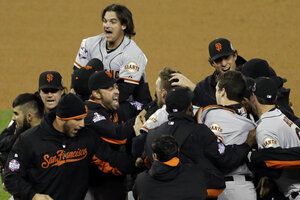 Paul Sancya/AP
Kung Fu Panda, The Freak, The Beard and all their seed-throwing buddies are on top of baseball — again.
They may be under the radar, unappreciated and unexpected. But they're unassailable, the winner of two World Series titles in the last three years.
Their sweep of the Detroit Tigers, completed Sunday night with a 4-3, 10-inning win, was simply historic.
No National League team had swept a World Series since the 1990 Cincinnati Reds.
No NL team had won twice in a three-year span since the Big Red Machine in 1975-76.
"I'm numb, really, the fact that we've won two World Series in the last three years," Giants manager Bruce Bochy said. "This will sink in, but right now, I'm kind of speechless on that."
This happens in the NL only slightly more often than appearances of Haley's Comet. They are just the fifth NL team to accomplish the feat since the 1907-08 Chicago Cubs, joining the 1921-22 New York Giants, the St. Louis Cardinals of '44 and '46, the Los Angeles Dodgers of '63 and '65, and that Big Red Machine.
And these Giants did it with small ball, becoming only the fifth big league team — and the first since the 1982 Cardinals — to win the title after finishing dead last in home runs during the regular season.
"Our guys had a date with destiny," Giants general manager Brian Sabean said.
---