Bipartisan immigration reform back on the table
Two high-profile Senators from across party lines are re-starting talk of immigration reform. Senators Charles Schumer, a Democrat, and Senator Lindsey Graham, a Republican, have a four-part plan that includes a path to citizenship for undocumented immigrants.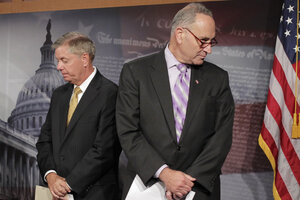 J. Scott Applewhite/AP
Two key US senators are restarting bipartisan talks on US immigration reform that will include a path to citizenship for illegal immigrants already in the country, Senator Charles Schumer said on Sunday.
Appearing on NBC's "Meet the Press," the Democrat Schumer said he has spoken with Republican Senator Lindsey Graham and they have agreed to resume talks that broke off two years ago.
"And I think we have a darned good chance using this blueprint to get something done this year. The Republican Party has learned that being ... anti-immigrant doesn't work for them politically. And they know it," Schumer said.
President Barack Obama, re-elected last week with overwhelming support from Hispanic voters, in 2010 called the proposal unveiled by Graham and Schumer a "promising framework" on immigration reform. But the plan never got off the ground.
Obama's support among Hispanics was about 66 percent in the election, according to Reuters/Ipsos polling data.
---