Hearing for Bradley Manning focuses on harsh prison treatment
At a pre-trial hearing, defense lawyers for Private Bradley Manning focused on the treatment he received while held in a Virginia brig, saying the case should be dismissed. Manning is accused of leaking massive amounts of material to WikiLeaks.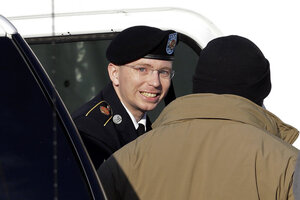 Patrick Semansky/AP/File
A pre-trial hearing for U.S. Army Private Bradley Manning, who is accused of masterminding a massive leak of classified material to the WikiLeaks website, focused on Saturday on a 2011 incident when he broke down and cried in a military brig.
The hearing is to determine whether Manning should face a court-martial on suspicion of leaking thousands of classified documents, including military reports and diplomatic cables.
Manning's lawyers have sought to have the case against him dismissed, arguing that his treatment after arriving at the Marine Corps brig in Quantico, Virginia, in July 2010 was unduly harsh.
---