Fiscal cliff: Is there a deal in the making?
President Obama and House Speaker John Boehner disagree about whether tax rates on the top two percent of earners should go up. The White House says, 'yes' and Republicans say, 'no'. Most Americans don't think the two sides will reach an agreement by January 1, according to a recent poll. But others are more optimistic.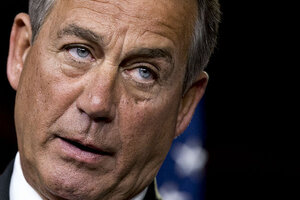 AP Photo/J. Scott Applewhite, File
The White House and Republicans in Congress, despite their bluster and rhetoric over the looming "fiscal cliff," have areas of significant overlap in their competing budget proposals that could form the basis for a long-term deal that would avert what some economists call a potential catastrophe.
The Obama administration and House of Representatives Speaker John Boehner kept up the ridicule of each other's negotiating stances on Tuesday. But beneath the tough words were the possible makings of a deal to avoid the cliff, which is a combination of expiring tax cuts and automatic, across-the-board spending cuts due to take effect in January.
Economists warn the fiscal cliff, a result of prior failures of Congress and Obama to reach a lasting deal, could plunge the U.S. economy back into recession.
The White House and Congressional Republicans disagree sharply on tax rates for the rich and spending cuts to popular benefit programs. But both sides now concede that tax revenue and reductions in entitlement spending are essential elements of any deal.
If the talks succeed, it probably will be because Boehner, the most powerful Republican in Washington, yields on raising tax rates for top earners. The White House, in turn, would likely have to bend on how to reduce spending on Medicare, the federal health care program for the elderly, and some changes in Social Security, the government pension program.
---