Wedding bells in Washington: State readies for same-sex marriage license applications
In November the state of Washington became one of three states to extend marriage rights to same-sex couples by popular vote. On Wednesday, county clerks braced for an onslaught of marriage license applications.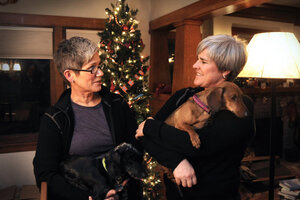 Jesse Tinsley/The Spokesman-Review/AP
County clerks across Washington state braced on Wednesday for a flood of marriage-license applications from gay and lesbian couples eager to exchange vows once a new law legalizing same-sex matrimony takes effect at the stroke of midnight.
Washington made history last month as one of three U.S. states where marriage rights were extended to same-sex couples by popular vote, joining Maryland and Maine in passing ballot initiatives on Nov. 6 recognizing gay nuptials.
---