Why union protests won't stop Michigan's new 'right-to-work' law
Some 10,000 protesters are expected to turn out Tuesday. But Michigan is likely to become the 24th "right-to-work" state because Republicans have majorities in the legislature.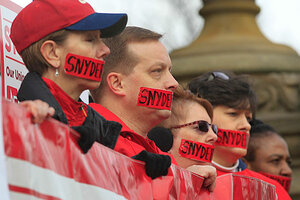 (AP Photo/Carlos Osorio) Carlos Osorio
Republicans are likely to approve contentious "right-to-work" measures in the union stronghold of Michigan on Tuesday despite thousands of people converging on the state capital to protest proposed laws they say would lower wages and hurt workers.
Organizers expect as many as 10,000 unionized workers to go to the state capital of Lansing on Tuesday, some taking a day off from jobs, to demonstrate against the laws which would make union membership and dues payment voluntary.
President Barack Obama waded into the debate during a visit to the Daimler Detroit Diesel plant in Redford, Michigan on Monday, criticizing the Republican "right-to-work" effort.
"What they're really talking about is giving you the right to work for less money," Obama said to loud applause from workers. His visit to Michigan was scheduled before the issue erupted.
Michigan is far more important to the labor movement than Wisconsin, where a similar battle was fought with unions over the last two years. Michigan is the home of the U.S. auto industry, with some 700 manufacturing plants in the state, and is where the United Auto Workers union was born.
---