Obama cuts short Hawaiian holiday for fiscal cliff negotiations
With fiscal cliff negotiations still at a standstill, President Barack Obama cut short his family vacation in his home state of Hawaii, and will return to Washington. Congress will reconvene Thursday.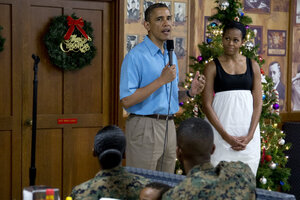 Carolyn Kaster/AP
President Barack Obama was cutting short his traditional Christmas holiday in Hawaii, planning to leave for Washington on Wednesday evening as a year-end deadline loomed before the U.S. economy goes over the so-called "fiscal cliff."
Obama was expected to arrive in Washington early Thursday, the White House said. First lady Michelle Obama and the couple's two daughters were scheduled to remain in Hawaii until Jan. 6.
In the past, the president's end-of-the-year holiday in his native state had stretched into the new year. The first family left Washington last Friday night.
Congress was expected to return to Washington on Thursday. Before he departed for Hawaii, Obama told reporters he expected to be back in the capital this week.
Without action by Obama and Congress, automatic deep budget cuts and tax increases are set to begin in January, which many economists say could send the country back into recession. So far, the president and congressional Republicans have been unable to reach agreement on any alternatives.
Lawmakers have expressed pessimism for the prospect of an agreement coming before Jan. 1. On Sunday, Republican Sen. Kay Bailey Hutchison said she expects any action in the waning days of the year to be "a patch, because in four days we can't solve everything."
---