Slimmed farm bill reveals waning influence of agriculture
The 'dairy cliff' may have been avoided, but what was once a half-trillion-dollar bill full of subsidies for farmers was slimmed down to a no-frills extension. The once all-powerful farm interest may have lost its pull.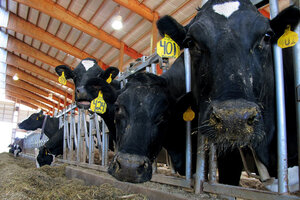 Carrie Antlfinger/AP
A patchwork extension of federal farm programs passed as part of a larger "fiscal cliff" bill keeps the price of milk from rising but doesn't include many of the goodies that farm-state lawmakers are used to getting for their rural districts.
House and Senate Agriculture Committee leaders who spent more than a year working on a half-trillion-dollar, five-year farm bill that would keep subsidies flowing had to accept in the final hours a slimmed-down, nine-month extension of 2008 law with few extras for anyone.
With the new Congress opening Thursday, they'll have to start the farm bill process over again, most likely with even less money for agriculture programs this year and the recognition that farm interests have lost some of the political clout they once held.
"I think there's a lot of hurt feelings, that all of this time and energy was put into it and you've got nothing to show for it," said Roger Johnson, president of the National Farmers Union.
Senate Agriculture Committee Chairwoman Debbie Stabenow, D-Mich., said it even more bluntly on the Senate floor just after she learned that the bare-bones extension would be part of the fiscal cliff deal.
"There is no way to explain this," she said angrily as the deal came together New Year's Eve. "None. There is absolutely no way to explain this other than agriculture is just not a priority."
---