Chris Christie: Political calculator? Or just doing his job?
New Jersey governor, and possible GOP presidential contender Chris Christie has landed in the spotlight time and again for his take-charge attitude, and his willingness to say what's on his mind. The governor says he's not trying to be political.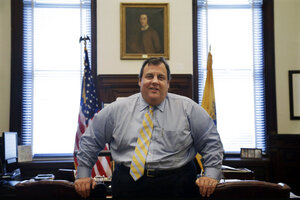 Mel Evans/AP
In 2010, Gov. Chris Christie underestimated the first major storm of his administration by flying to Disney World hours before snow crippled New Jersey. A year later, he overplayed Tropical Storm Irene with the now-infamous order, "Get the hell off the beach."
When Superstorm Sandy set its sights on his state, he had learned his lesson: be more hands on, more empathetic.
"I had a sense from the beginning that this one was going to be really bad," Christie, 50, told The Associated Press in an interview last week that reflected on a first term that has now positioned him in the national spotlight and as a potential 2016 presidential contender.
"With Irene, I went back and forth because the forecasts were going back and forth. When the National Weather Service says it's going to be a wipe out of the Shore then they start backing off of that, it's very difficult to set the right tone and, candidly, make the right decisions," he said. "I might have been firmer in Sandy if it hadn't been for the experience of Irene when I got everybody off the beach and nothing really awful happened there."
Christie, by his own admission, is "not a subtle personality" and he likes to take charge. Those two traits figured prominently in how the rising Republican handled Sandy.
---