New York City ferry crash injures dozens
Questions remain following the collision Wednesday morning of a ferry into a dock in Manhattan. The ferry had recently undergone an overhaul, but officials said it was too soon to tell if the engine and propulsion work played a role in the crash.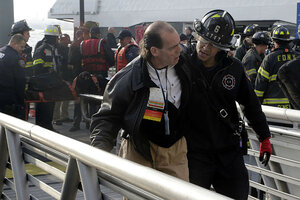 AP Photo/Richard Drew
A high-speed ferry loaded with hundreds of commuters from New Jersey crashed into a dock in lower Manhattan on Wednesday during the morning rush hour, seriously injuring 11 people, including one who suffered a severe head wound falling down a stairwell.
Scores of people who had been standing, waiting to disembark, were hurled to the deck or launched into walls by the impact, which came after the catamaran Seastreak Wall Street slowed following a routine trip across New York Bay and past the Statue of Liberty, passengers said.
"We were pulling into the dock. The boat hit the dock. We just tumbled on top of each other. I got thrown into everybody else. ... People were hysterical, crying," said Ellen Foran, of Neptune City, N.J.
The crash, which ripped open a small part of the hull like an aluminum can, happened at 8:45 a.m. at a pier near the South Street Seaport, at Manhattan's southern tip. Around 70 people suffered minor injuries, and for nearly two hours paramedics treated bruised and dazed passengers on the pier. Firefighters carried several patients on flat-board stretchers as a precaution. Other patients left in wheelchairs.
The cause of the crash was under investigation. The ferry, built in 2003, had recently undergone a major overhaul that gave it new engines and a new propulsion system, but officials said it was too soon to tell whether they played any role in what happened.
---