'Lincoln,' 'Argo' face off in Golden Globes hosted by Tina Fey, Amy Poehler
The Golden Globe Awards' top honor, best movie drama, could go to either 'Lincoln' or 'Argo' Sunday. Hosted by comedians Tina Fey and Amy Poehler, the award show is sure to be a raucous star-studded evening.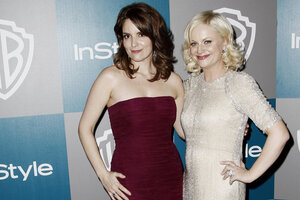 Matt Sayles/AP/File
Hollywood's biggest stars turn out on Sunday for the 70th Golden Globe Awards, with "Lincoln" and Iran hostage thriller "Argo" in a close race for the top honor, best movie drama.
Golden Globe nominees Anne Hathaway, Hugh Jackman, Steven Spielberg, Bradley Cooper, Richard Gere,Denzel Washington and singer Adele will be A-list presenters, along with George Clooney, Arnold Schwarzenegger, Julia Roberts and "Twilight" movie star Robert Pattinson.
---