Catholic church releases sexual abuse files, relieves cardinal of duties
The archdiocese of Los Angeles releases thousands of pages of personnel records, revealing a "sad and shameful chapter in the history of our local church."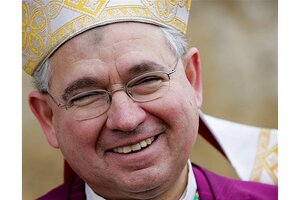 Eric Gay / AP / File
The Catholic archdiocese of Los Angeles is releasing thousands of pages of personnel files relating to child molestation by priests, part of a 2007 civil court settlement.
The archbishop also announced that he has relieved retired Cardinal Roger Mahony of his remaining duties, and a former top aide to Mahony has stepped down from his current post as auxiliary bishop of Santa Barbara.
"I find these files to be brutal and painful reading," Archbishop Jose Gomez said in a statement, referring to the documents made public by the church Thursday night. "The behavior described in these files is terribly sad and evil. There is no excuse, no explaining away what happened to these children." Gomez said that he has "informed Cardinal Mahony that he will no longer have any administrative or public duties."
Mahony, who retired in 2011 after more than a quarter-century at the helm of the archdiocese, has publicly apologized for mistakes he made in dealing with priests who molested children.
Gomez also said Thomas Curry, former vicar of the clergy under Mahony who was the cardinal's point person in dealing with priests accused of molestation, has stepped down from his Santa Barbara post. Curry also issued an apology earlier this month.
Earlier Thursday, Los Angeles Superior Court Judge Emilie Elias ordered the diocese to turn over thousands of pages from the confidential files of priests accused of child molestation without blacking out the names of top church officials who were responsible for handling priests accused of abuse.
The judge gave the archdiocese until Feb. 22 to turn over the files to attorneys for the alleged victims, but they were released almost immediately.
---