Arizona woman 'felt like a prostitute'
An Arizona woman charged with killing her lover in 2008, gave testimony in the case on Wednesday. She described the relationship as primarily physical. If she is convicted she could face the death penalty.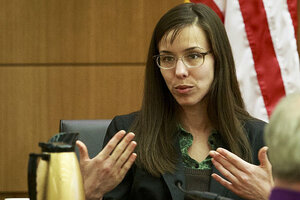 AP Photo/The Arizona Republic, Charlie Leight
An Arizona woman charged with stabbing and shooting her lover to death - and whose graphic testimony has gripped viewers across the United States - described in court a relationship based around sex that left her feeling "like a prostitute."
Lawyers for Jodi Arias, who could face the death penalty if convicted, argue she acted in self-defense when she killed her lover. He was found in the shower of his Phoenix valley home, shot in the face, stabbed 27 times and with his throat slit.
"I just felt ... a little bit, I hate to put it this way, but I felt a little bit used," Arias, a petite, bespectacled woman with long brown hair, told the court on Wednesday in a calm, measured tone, describing a relationship she said was based around sex.
"He gets a hotel room, I show up, we hang out, we have sex ... He's not really mentally present. I'm getting a lot of attention, but only while we're engaging in sexual activity, and then we check out and he takes off. I kind of felt like a prostitute, sort of," the 32-year-old told the court in testimony that has been relayed widely on news broadcasts and livestreamed on the Internet.
---