Keystone XL? 'Shut it down' protestors say, Senators ask Obama to approve it
This weekend thousands protested in Washington against the Keystone XL pipeline. The protests followed a push by a bipartisan group of senators asking President Obama to approve the pipeline.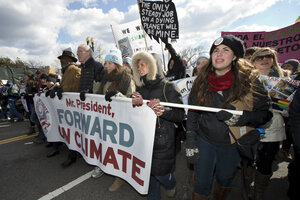 Manuel Balce Ceneta/AP
Thousands of protesters gathered on the Washington's National Mall on Sunday calling on U.S. President Barack Obama to reject the controversial Keystone XL oil pipeline proposal and honor his inaugural pledge to act on climate change.
Organizers of the "Forward on Climate" event estimated that 35,000 people from 30 states turned out in cold, blustery conditions for what they said was the biggest climate rally in U.S. history. Police did not verify the crowd size.
Protesters also marched around the nearby White House, chanting "Keystone pipeline? Shut it down." Among the celebrities on hand were actresses Rosario Dawson and Evangeline Lilly, and hedge fund manager and environmentalist Tom Steyer.
---