Obama administration warns of grim consequences when cuts kick in
To raise awareness, the Obama Administration is pointing to specific programs and departments that would be affected by automatic budget cuts set to begin March 1, including the Federal Aviation Administration and the National Parks Service.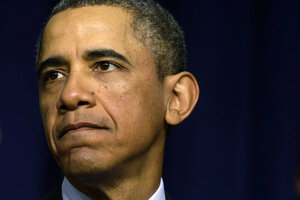 Charles Dharapak/AP
Widespread flight delays and shuttered airports, off-limit seashores and unprotected parks.
The Obama administration is painting a dire portrait of the many ways the public will feel the effects of automatic federal spending cuts due to begin March 1.
The grim picture is emerging as the White House and lawmakers count down the days until the government is forced to trim $85 billion in domestic and defense spending with hardly any leeway to save some programs from the budget knife.
In detailing the costs of the cuts, President Barack Obama is seeking to raise the public's awareness while also applying pressure on congressional Republicans who oppose his blend of targeted savings and tax increases to tackle federal deficits.
"I've been very clear that these kinds of arbitrary, automatic cuts would have an adverse impact on families, on teachers, on parents who are reliant on Head Start programs, on our military readiness, on mental health services, on medical research," Obama said Friday. "This is not a smart way for us to reduce the deficit."
Just in case those consequences didn't capture the public's attention, the White House also had Transportation Secretary Ray LaHood spell out the impact on travelers: a frequent-flier nightmare of 90-minute airport waits, limited flights and closed regional airports. Republican lawmakers dismissed LaHood's warnings as "exaggerations."
But LaHood said the cuts would require slicing more than $600 million from the Federal Aviation Administration, resulting in furloughs of one day per pay period for a majority of the agency's 47,000 employees.
---