Military draft registration: Goodbye to the draft board?
A new proposal would eliminate military draft registration, doubling down on the military's commitment to an all-volunteer army. Men ages 18 to 25 would no longer need to register for the draft.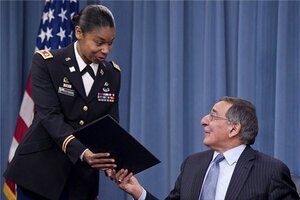 Cliff Owen/AP/File
In the wake of the Pentagon's recent announcement that women will serve in combat roles and combat zones, the question arose: Will women need to register for the draft? That may become moot: Two lawmakers are waging a little-noticed campaign to abolish the Selective Service System, the independent federal agency that manages draft registration.
If the proposed law moves forward, no one would have to register for the draft anymore, male or female.
Reps. Peter DeFazio (D) of Oregon and Rep. Mike Coffman (R) of Colorado say the millions of dollars the agency spends each year preparing for the possibility of a military draft is a waste of money. They say the Pentagon has no interest in returning to conscription due to the success of the all-volunteer force.
Here's a quick look at the Selective Service System:
– The Selective Service has a budget of $24 million and a full-time staff of 130. It maintains a database of about 17 million potential male draftees. In the event of a draft, the agency would mobilize as many as 11,000 volunteers to serve on local draft boards that would decide if exemptions or deferments to military service were warranted.
---