Derek Fisher returns to Oklahoma City Thunder
Derek Fisher became the third point guard in the Oklahoma City Thunder line up. Derek Fisher won five NBA championship rings with the Los Angeles Lakers.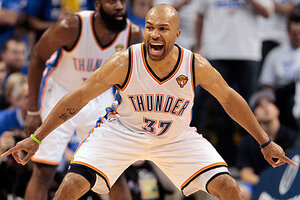 AP Photo/Jeff Roberson, FIle)
The Oklahoma City Thunder signed veteran Derek Fisher on Monday, filling an opening for a third point guard that was created when Eric Maynor got traded to Portland.
Fisher joins Oklahoma City for the stretch run for the second straight season. He played in 20 regular-season games and then all 20 playoff games last season. He played briefly for the Dallas Mavericks this season, asking for his release in December after injuring his right knee.
Why bring Fisher back? " For a team that expects to make another deep playoff run, entering the postseason with only two lead guards would have been risky. Fisher also brings stability to the position in the event that Jackson, still in just his second season, struggles under the playoff spotlight," writes Darnell Mayberry, of the Oklahoman.
---