Gay marriage supported by almost 2 in 3 Californians, poll says
Gay marriage has followed a bumpy path in California. Voters have turned it down twice, with narrowing margins, but a new poll shows 61 percent of Californians supporting same-sex marriage.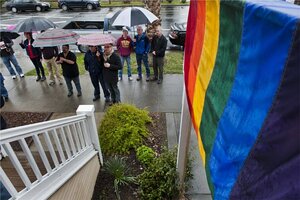 Renee C. Bye / The Sacramento Bee / AP
California voters favor same-sex marriage by a nearly 2-to-1 margin, a poll showed on Thursday, a month before the U.S. Supreme Court is set to hear arguments over a gay marriage ban approved by the state's residents in 2008.
The Field Poll found 61 percent of surveyed voters in California believe gay and lesbian couples should be allowed to wed, the highest level of support the organization has ever found on that question in the state.
The findings represent a shift in public opinion on the matter since November 2008, when 52 percent of voters in California approved Proposition 8 to amend the state constitution to ban same-sex marriage. Leading up to that vote, polls had shown the public narrowly divided on the question.
Defenders of Proposition 8 discounted the random survey.
"Californians voted for (traditional) marriage twice in the only polls that really matter," said Jim Campbell, an attorney for Alliance Defending Freedom, which represents opponents of gay marriage in the case that has reached the U.S. Supreme Court.
Kate Kendell, executive director of the National Center for Lesbian Rights, cited the Obama administration's filing of a brief on Thursday urging the Supreme Court to allow same-sex marriages to resume in California as further evidence of the momentum in favor of accepting gays and lesbians.
---