Senate passes short term spending measure
On Wednesday the U.S. Senate passed a bill, which if passed by the House as expected, will avert a government shutdown. The House and the Senate; Republicans and Democrats have differing views on how to resolve the country's longer term budget challenges.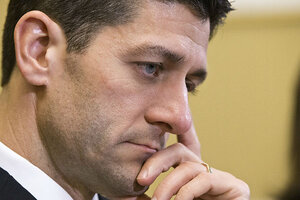 AP Photo/J. Scott Applewhite, File
The U.S. Senate on Wednesday approved legislation to avert a government shutdown next week, freeing Democrats and Republicans to spend the next few months arguing over deeply divided strategies to shrink longer-term budget deficits.
The bill, which would keep government agencies and programs funded through the end of the fiscal year on Sept. 30, must go back to the House of Representative for final approval on Thursday.
House Appropriations Committee Chairman Hal Rogers said he was pleased with the bill and believes it can pass the Republican-controlled House.
"It's a great success," Rogers told reporters. He called the effort a "healthy start" toward returning to a normal, bipartisan budgeting process.
The measure, approved by a 73-26 vote, keeps in place $85 billion in automatic spending cuts, but it offers the military and some domestic agencies more flexibility to shift funds within these reduced budgets to higher-priority programs.
Without new government spending legislation enacted by March 27, federal agencies and discretionary programs ranging from the Department of Transportation to national parks would have faced a shutdown.
Both parties opted against risking such a shutdown as they wrangle over longer-term tax and spending policy. If approved by the House as expected, the measure pushes the next critical fiscal deadline to late July or early August, when the next increase in the federal borrowing limit will be needed.
Until then, Democrats and Republicans are likely to argue over their vastly different budget resolutions that are expected to pass each chamber before a two-week recess starts at the end of the week.
The Senate immediately opened debate on its first budget in nearly four years, a Democratic-focused plan that calls for raising nearly a $1 trillion in new tax revenues, spending $100 billion more on infrastructure and offering up some modest spending cuts.
The Senate budget stands in stark contrast to the Republican proposal being debated in the House, which calls for deep cuts to social programs to reach a small surplus by 2023.
---