24 Ohio educators receive firearm training through pilot program
Several organizations paid for 24 educators in Ohio to receive a 3-day firearms course. The training included role-playing, and participants were required to know basic firearm safety and marksmanship.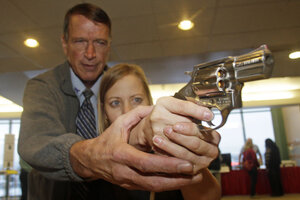 Rick Bowmer/AP/File
Two dozen Ohio educators have gotten firearms training through a pilot program organized by a gun rights group after the Connecticut school shootings.
The three-day course organized by the Buckeye Firearms Association taught participants tactical maneuvers for reacting to school shooters. As part of the program, educators used model guns with plastic pellets while playing roles in gunman scenarios based on real-life situations, The Columbus Dispatch reported.
The Armed Teacher Training Program was conducted for the first time recently at the Tactical Defense Institute in West Union, in southern Ohio. The Buckeye Firearms Foundation paid $30,000 for the 24 educators to receive the training, said Jim Irvine, chairman of the association. Those selected to participate were among more than 1,400 applicants, the newspaper reported.
The program was organized after the December shootings at Sandy Hook Elementary School in Newtown, Conn., that killed 20 students and six staff members.
A part of the training includes role-playing, where class members posing as "good guys" shoot at those playing the "bad guys. An instructor at the institute said the pellets from the guns do hurt some, but that makes the scenarios seem more real.
Angie, a substitute teacher from northeast Ohio who was not identified by the newspaper other than by her first name, agreed. She said she found the role-playing valuable.
"You can walk through a scenario, you know, just mapping it out a hundred times, and it's not going to be as memorable," she said.
The scenarios were set in areas simulating school commons areas such as hallways and auditoriums and more enclosed spaces such as offices.
Irvine said arming teachers is the best way to stop more mass murders, and gun control can't help.
---