Jack Johnson pardon? Fans create YouTube plea to Obama.
Jack Johnson, the first African-American heavyweight champ, was convicted of transporting a white woman across state lines for 'immoral purposes.'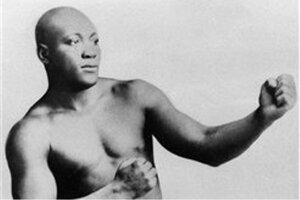 Undated publicity photo / AP
Fans and family of Jack Johnson, boxing's first black heavyweight champion, are turning to YouTube to convince President Barack Obama to posthumously pardon his 1913 conviction for accompanying a white woman across state lines.
Jack Johnson, nicknamed the "Galveston Giant" after his Texas hometown, was at the center of racial tensions after winning the title in 1908. When he defended his title by defeating white boxer Jim Jeffries in 1910, dubbed the "Fight of the Century," the victory sparked deadly race riots across the county.
Three years later, Johnson was convicted by an all-white jury for violating a law that made it illegal to transport white women across state lines for "immoral purposes." He was sentenced to a year in prison.
His family and other supporters say he did nothing wrong and that the century-old conviction continues to tarnish Johnson's image. Lawmakers have asked for a pardon three times in the past decade, most recently in March, though none has been successful. The Justice Department has said its general policy is not to process posthumous pardon requests, and the White House declined to comment on the most recent congressional resolution.
So on Sunday, to mark what would have been Johnson's 135th birthday, his relatives and supporters gathered in Galveston to honor him and record a video to go straight to Obama.
Leon Phillips, president of the Galveston County Coalition for Justice, which helped spearhead the effort, told The Associated Press on Tuesday the video adds another layer of support.
---