Dempsey: Pentagon prepared for potential North Korean action
Though he doesn't foresee North Korea taking serious military action, Gen. Martin Dempsey, the chairman of the Joint Chiefs of Staff, said the Pentagon has bolstered its missile defenses to be prepared.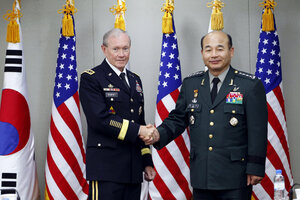 Lee Jin-man/AP/File
The top US military officer said Sunday the Pentagon had bolstered its missile defenses and taken other steps because he "can't take the chance" that North Korea won't soon engage in some military action.
Heightened tensions with North Korea led the United States to postpone congressional testimony by the chief US commander in South Korea and delay an intercontinental ballistic missile test from a West Coast base.
North Korea, after weeks of war threats and other efforts to punish South Korea and the US for joint military drills, has told other nations that it will be unable to guarantee diplomats' safety in the North's capital beginning Wednesday.
US Gen Martin Dempsey, the Joint Chiefs of Staff chairman who just wrapped up a visit to Afghanistan, was asked in an Associated Press interview whether he foresees North Korea taking military action soon.
---