Georgia firefighters rescued; gunman dead
A Georgia man who held four firefighters hostage on Wednesday died during the rescue effort. One of the firefighters was injured. The man took the hostages in an attempt to have his utility services restored. His home was in foreclosure.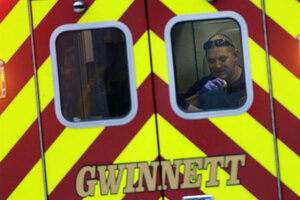 AP Photo/John Bazemore
A gunman who held four Georgia firefighters hostage on Wednesday, demanding his utilities and cell phone service be restored, was killed after an exchange of gunfire with authorities who moved in to free the captives, police said.
An officer was wounded and the firefighters, taken hostage after responding to what had appeared to be a medical call, suffered minor injuries during the rescue at a suburban Atlanta home, Gwinnett County police spokesman Edwin Ritter told a news conference.
The man, whom police have not identified, apparently had been in financial troubles and demanded his power, cable television and cell phone service be restored, Ritter said.
"He wanted all those things turned back on," Ritter said. "That's why he was holding them hostage."
The gunman had initially also held a fifth firefighter captive in the home in Suwanee, about 35 miles (56 km) northeast of Atlanta, but let that person leave to move a fire truck, police and fire department officials said.
Property records show the home is owned by Federal Home Loan Mortgage Corporation, and a Freddie Mac spokesman confirmed to WSB-TV that the property was in foreclosure.
A SWAT unit entered the house after deciding the lives of the firefighters were in imminent danger, Ritter said.
---