Max Baucus: Who gets the retiring senator's $4.8 million?
Max Baucus, a retiring US senator from Montana, has $4.8 million in campaign funds. How the funds left in the Max Baucus campaign war chest be spent?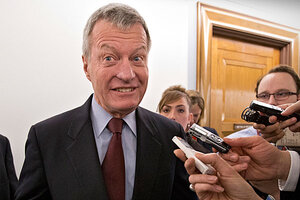 (AP Photo/J. Scott Applewhite/File)
Sen. Max Baucus' decision not to run for re-election in 2014 leaves the Montana Democrat with more than $4.8 million in campaign money — and no campaign to spend it on.
Baucus has several options for what he can do with all that cash, according to Federal Election Commission regulations. The only real restriction is that he can't keep it for himself.
He could transfer any amount to national, state or local Democratic committees. He could donate to other candidates — within state and federal contribution limits. He could use some cash to defray travel costs and expenses related to winding down his office. He also could turn his campaign committee into a political action committee.
Baucus' campaign organization will be closing in the coming weeks. Baucus officials say he intends to support the Montana Democratic Party, Democratic candidates and charities or foundations Baucus believes in.
Most analysts see the race as going to Gov. Brian Schweitzer's, a Democrat, if he decided to run. "If Schweitzer comes in and decides to run, I don't see a path forward for the Republicans. If he doesn't? Anything could happen – for both sides," David Parker, a professor at Montana State University, told The Christian Science Monitor. "It all begins and ends with Brian Schweitzer."
---