Rhode Island's marriage equality strategy a 'recipe' for other states?
Rhode Island is days away from becoming the 10th US state to allow same-sex marriage. The combination of coalition building and old-fashioned politics that got it passed is 'a recipe that could definitely be replicated in other states,' says Speaker of the House Gordon Fox, but opponents credit shifting national attitudes.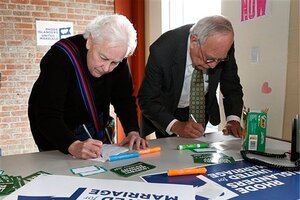 Bizuayehu Tesfaye / Courtesy of Human Rights Campaign / AP
Phone banks, an army of volunteers and alliances with organized labor, business leaders, and religious clergy propelled gay marriage to victory in Rhode Island this week, a savvy and coordinated strategy that relied on growing public support and old-fashioned bare-knuckle politics.
Gay marriage legislation had failed every year in Rhode Island since 1997, leaving the heavily Catholic state the lone holdout in New England as the five other states changed their marriage laws. That's soon set to change. The state Senate voted Wednesday to allow gay marriage, and Gov. Lincoln Chafee plans to sign the bill into law following a final, procedural vote in the House next week.
The successful campaign could serve as a model for similar efforts in other states and reflects the increasingly sophisticated political strategy driving what just two decades ago was dismissed as a fringe issue with little public support, advocates and lawmakers alike say.
"This was a victory won by many people, because that's what it takes," House Speaker Gordon Fox, a Providence Democrat who is gay and led House efforts to pass gay marriage, said Thursday. "You bring everyone together, and you're stronger for it. It's a recipe that could definitely be replicated in other states."
Opponents, however, say their defeat in Rhode Island was less about dogged political strategy than it was the national conversation on gay marriage.
---