Long Island Power Authority: Will 3-year rate freeze help?
Debates over the Long Island Power Authority continue after Governor Cuomo's bold suggestion to freeze LIPA rates for three years.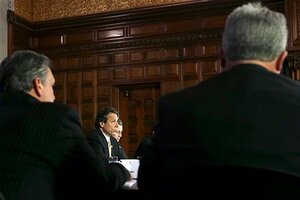 Mike Groll / AP
Gov. Andrew Cuomo received tentative support from legislative leaders Monday for his plan to finally sideline the Long Island Power Authority, which has been criticized for high rates and questionable response in disasters for years.
The Cuomo proposal would replace LIPA's role in daily operations by Public Service Electric & Gas Co. of New Jersey. The proposal would freeze Long Islanders' rates for three years.
Assembly Speaker Sheldon Silver would only say Cuomo's proposal was a "thoughtful plan" to "a complex challenge" and "certainly an important step in the right direction."
Assembly Republican leader Dean Skelos of Long Island was just as noncommittal of the proposal, although the Cuomo administration worked with key legislators on its provisions for weeks. Skelos called it "still a work in progress."
Long Island legislative representatives, the county executives of Nassau and Suffolk counties, and business leaders gave stronger support for Cuomo's proposal.
But some customers who are already paying some of the nation's highest utility bills are still concerned.
"Let's take the proposal one step further with a long-term solution that will give Long Islanders a stronger voice in the utility regulatory process," said Beth Finkel of AARP in New York. "A consumer advocate office with teeth to stand up to utility companies like PSEG and LIPA is the missing piece to Gov. Cuomo's plan for oversight of utilities."
---