Chuck Muncie dies, leaves legacy as NFL star who fought drug abuse
Chuck Muncie dies: A former NFL running back, Chuck Muncie went to jail for selling cocaine. But later, Chuck Muncie helped at-risk kids with his story of drug abuse. "His most impressive work was done in the second chapter of his life," says his former wife.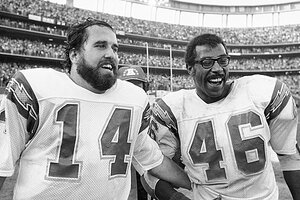 (AP Photo/File)
Chuck Muncie, a Pro Bowl running back with both the New Orleans Saints and San Diego Chargers, has died at age 60, the NFL clubs and a family spokesman said Tuesday.
Muncie family spokesman Vintage Foster said Muncie died at his Los Angeles-area home on Monday from heart failure.
Muncie was the Saints' first-round pick, third overall, out of California in 1976. He played 4½ seasons in New Orleans before being traded in 1980 to San Diego, where he finished his nine-year NFL career.
In 1979, Muncie became the first Saint to rush for 1,000 yards, finishing with 1,198 and 11 touchdowns, and his 1,506 total yards from scrimmage earned him the first of his three Pro Bowl selections.
Muncie and fellow Saints running back Tony Galbreath formed what then-coach Hank Stram dubbed the "Thunder and Lightning" combination in the New Orleans backfield. Muncie's photo is among those featured on the Saints' Hall of Honor inside the club's training facility.
Saints owner Tom Benson said in a written statement that the Saints were mourning Muncie's "untimely passing," adding, "Our thoughts and prayers go out to his family and other loved ones at this difficult time."
---