'Bishop' gets 37 years: He could have gotten 200
'The Bishop' gets a 37-year sentence after his conviction for 12 counts related to his construction and mailing of pipe bombs. The bombs failed to explode, but 'The Bishop' still faced up to 200 years in prison.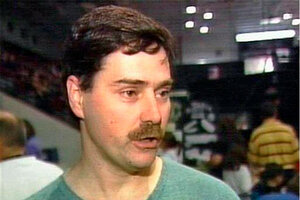 KWWL-TV / AP / File
An Iowa letter carrier was sentenced to 37 years in prison Tuesday for sending dud pipebombs with letters signed "The Bishop" in an odd but potentially deadly bid to drive up the value of shares he owned.
John Tomkins, 48, showed little emotion as a federal judge in Chicago imposed the sentence. Later, before marshals led the Dubuque, Iowa, man away in handcuffs, he smiled as his attorney patted his shoulder.
In an hourlong preamble to the sentence, Judge Robert Dow praised Tomkins for taking some responsibility but added the father of three "engaged in a reign of terror" in his mailings to investment firms and advisers.
"'Horrific' is the single best word I've heard to describe this crime," Dow said. "'Terrifying' is another good word."
Tomkins got the idea to sign his letters "The Bishop" from a novel in which a criminal leaves a chess piece as his calling card. His notes read, "BANG! YOU'RE DEAD," and said the only reason the recipient wasn't dead was because a lone wire wasn't attached.
Tomkins faced a mandatory minimum sentence of 30 years, though prosecutors asked for around 45 years. Counting six years Tomkins has already served and credit for good behavior, he could be released by his mid-70s.
The acting U.S. attorney in Chicago welcomed the sentence.
"Tomkins took these terrifying and secretive actions because he was greedy," said Gary Shapiro. "He was indifferent to whether he killed people in the process."
Jurors convicted Tomkins last year on 12 counts, including the use of a destructive device while mailing threatening communications. Combining all the maximums, Tomkins faced a sentence of more than 200 years.
Tomkins' lawyer, Francis Lipuma, told reporters after sentencing that he plans to appeal the convictions and portions of the sentencing. But he conceded the sentence could have been far worse for his client.
---