Washington bridge collapse: Oversized truck causes span to fall into river
Washington bridge collapse occurs on the interstate highway between Seattle, Washington and the Canadian city of Vancouver, British Columbia. Amazingly, only three people were slightly injured in the Washington bridge collapse.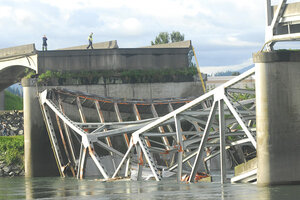 Frank Varga, Skagit Valley Herald/AP
A truck carrying an oversize load struck a bridge on the major thoroughfare between Seattle and Canada, sending a section of the span and two vehicles into the Skagit River below, though all three occupants suffered only minor injuries.
It happened about 7 p.m. Thursday on the four-lane Interstate 5 bridge near Mount Vernon, about 60 miles north of Seattle, and disrupted travel in both directions.
Initially, it wasn't clear if the bridge just gave way on its own. But at an overnight news conference, Washington State Patrol Chief John Batiste blamed it on a tractor-trailer carrying a tall load that hit an upper part of the span.
"For reasons unknown at this point in time, the semi struck the overhead of the bridge causing the collapse," he said.
The truck made it off the bridge and the driver remained at the scene and cooperated with investigators.
Two other vehicles went into the water about 50 feet below as the structure crumbled. Three people were rescued and were recovering Friday.
Drivers were told to expect delays. Detours have been set up to try to ease the congestion. Batiste urged drivers to avoid the area if possible, especially over the Memorial Day weekend. Traffic along the heavily travelled route could be affected for some time.
"The I-5 corridor is totally disrupted," said Washington Gov. Jay Inslee, who went to the scene Thursday night.
"Thanks to the rescuers and a little bit of luck, we had three Skagitonians who made it out of the Skagit River alive," Inslee said.
Dan Sligh and his wife were in their pickup on Interstate 5 heading to a camping trip when a bridge before them disappeared in a "big puff of dust."
---