Rice selected for new high-profile role in Obama administration
Susan Rice will become President Barack Obama's national security adviser, he announced on Wednesday. He will nominate Samantha Power to take Rice's spot as U.S. ambassador to the U.N. These leadership changes take place as the country faces a variety of foreign policy challenges.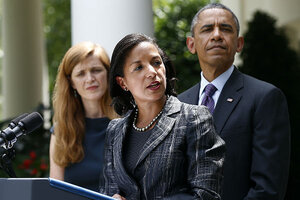 AP Photo/Charles Dharapak
President Barack Obama chose close confidante Susan Rice as his new national security adviser on Wednesday, increasing White House control over foreign policy and defying Republican critics of her handling of last year's deadly attack on a U.S. diplomatic compound in Libya.
Rice, selected to replace Tom Donilon in the post, is expected to play a high-profile role in defending Obama's foreign policy, particularly on the civil war in Syria. Obama has come under fire for his cautious approach to mounting evidence that President Bashar al-Assad used chemical weapons against rebels seeking to oust him.
Obama will nominate Samantha Power - a Pulitzer Prize-winning author about genocide, former White House aide and Harvard professor - to replace Rice as U.S. ambassador to the United Nations, White House officials said.
The selection of the pair raises the question of whether Obama's foreign policy might place more emphasis on human rights issues during his second term.
---