Miami Heat blows by Spurs in NBA Finals Game 2
LeBron James' teammates came to help him Sunday night in Game 2 of the NBA Finals versus San Antonio. That, plus a clutch shot block by the King, helped the Heat even the series at one win apiece.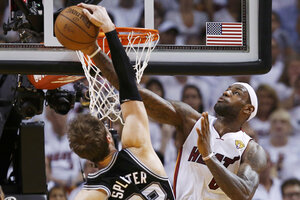 Mike Segar/REUTERS
For two days, the thought was that LeBron James needed to do more for his teammates.
Turns out, it was Mario Chalmers and mates who did something for James.
The supporting cast kept it close, and once the leading man joined in, the Miami Heat were back with a blowout in Game 2 of the NBA Finals.
Chalmers led the charge, James broke out to finish it with a flurry and the Heat used a 33-5 run to rout the San Antonio Spurs 103-84 on Sunday night and even the series at one game apiece.
James missed 10 of 13 shots through three quarters and the Heat trailed by a point late in the period before unleashing the lethal brand of basketball that led them to a franchise-record 66 wins this season.
"I already know what we have here," James said. "Like I said, I don't really read into it of what people want more of me or whatever the case may be. I will continue to find my shooters, if they're open, and I will continue to try to put pressure on the defense. If I draw two, I'll find my shooters. I have confidence they're going to knock them down. They did that tonight."
Eventually, so did James.
But it was Chalmers, who came into game with the goal of being a stopper and ended up being the guy who jump-started James.
"My main focus is to stop Tony Parker. That's my job. That's the key to the game, is not let him get going," Chalmers said. "And if the offense keeps going for me, I'm going to take it as it comes."
---