Portrait of a filibusterer: Who is Wendy Davis?
Wendy Davis, the Democratic state senator from Fort Worth, Texas, is in the final hours of a 13-hour filibuster to defeat an anti-abortion bill. Wendy Davis was a single mom by the age of 19 but put herself through school and graduated from Harvard Law School with honors.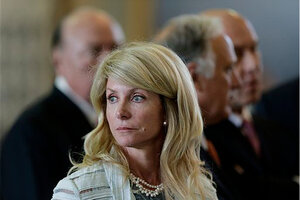 Eric Gay/AP
To lead their nearly 13-hour filibuster aimed at blocking a contentious abortion bill, Texas Democrats turned Tuesday to a 50-year-old lawmaker who pulled herself up from a tough background as a teenage mother to graduate from Harvard law school.
Once dismissed by Gov. Rick Perry as a "show horse," Sen. Wendy Davis has earned a reputation for being willing to spar with the state dominant political party and its leaders.
"She's a total fighter," said Cecile Richards, president of Planned Parenthood Action Fund and daughter of the late former Texas governor Ann Richards. "And the thing about Senator Davis, she says he's going to do something, she gets it done."
Davis, 50, starting working at age 14 to help support a household of her single mother with three siblings. By 19, she was already married and divorced with a child of her own. After community college, she graduated from Texas Christian University before being accepted to Harvard Law School. According to her website, Davis graduated Harvard Law with honors.
She returned to Texas, where she became a Fort Worth city council member before staging a political upset to beat an incumbent Republican to win a seat in the state Senate.
"We knew about her on the City Council," said Sen. Rodney Ellis, D-Houston. "And we knew her track record as someone you could count on in the heat of battle ... She's been a leader on women's health and women's issues."
Davis has clashed with Texas Republicans almost since arriving in the Capitol, earning derision and respect for her ability to dissect a complex bill and make her opponents squirm under tough questioning.
---