Six Flags death: Texas roller coaster had a history of injuries
Six Flags death: The Texas roller coaster where a woman fell to her death last week also caused minor injuries to almost a dozen other patrons of Six Flags Over Texas.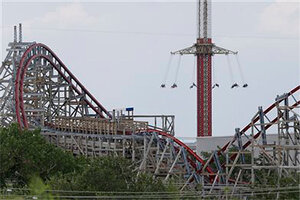 LM Otero/AP
Nearly a dozen people reported being injured in the last five years while riding the Texas roller coaster where a woman fell to her death last week, though the most serious injuries appear to be a concussion and muscle strains due to jostling, state records show.
Six Flags Over Texas reported 14 injuries involving the Texas Giant roller coaster between April 2008 and April 2013, according to Texas Department of Insurance records. Three happened before or after the ride, such as tripping on the steps leading to the ride.
Department spokesman Jerry Hagins said the ride was currently closed and wouldn't reopen until the department sees a new safety inspection report.
Amusement park safety analyst Ken Martin noted that such injuries are self-reported, so it's hard to gauge their accuracy. He also said such numbers don't include "near-misses."
"The numbers that we hear about are typically the tip of the iceberg," he said.
Rosa Ayala-Goana fell while riding the roller coaster Friday at the Six Flags amusement park. A witness told local media that Ayala-Goana expressed concern moments before the 14-story ride began that the safety bar had not completely engaged.
The Tarrant County medical examiner's office confirmed Monday that the 52-year-old suffered "multiple traumatic injuries" in the fall.
A man who identified himself as Ayala-Goana's son declined comment.
Walter Reiss, an amusement park ride safety inspector, said fatal accidents on roller coasters "are very unusual and infrequent." He added, "Most times that you have death accidents, it was something either ignorant or human error."
Six Flags Entertainment Corp. president and chief executive officer Jim Reid-Anderson said the company was using "both internal and external experts" to investigate the accident, but he offered no details during a conference call to discuss the company's earnings.
---