Bulger trial: Will the defendant take the stand?
Prosecutors in the trial of accused murderer and gang leader James 'Whitey' Bulger want to know whether the accused will testify. So far, however, the defense has kept that information private.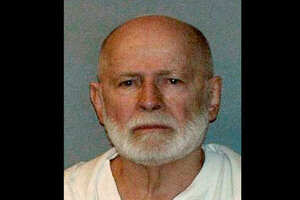 AP Photo/U.S. Marshals Service, File
A retired FBI agent told jurors in James "Whitey" Bulger's racketeering trial that the mother of one of the defendant's alleged victims suspected his longtime partner in crime, not Bulger, may have killed her daughter.
Wednesday's testimony came as prosecutors pushed for an answer about whether 83-year-old Bulger would take the stand himself.
Bulger faces charges connected to allegations that he participated in 19 slayings in the 1970s and 80s while leading the Winter Hill Gang, Boston's Irish mob.
Assistant U.S. Attorney Fred Wyshak told U.S. District Judge Denise Casper the government "deserves to know" if Bulger will take the stand, and that his lawyers haven't revealed their plans.
The judge said she'd take up the issue at the end of the day. When testimony wrapped up in the afternoon, she held a private sidebar with the attorneys and then adjourned for the day without any sign of a resolution on the matter.
Some family members of Bulger's alleged victims said they're eager to see him take the stand.
Tommy Donahue, whose late father Michael prosecutors count among Bulger's victims, said Bulger could salvage some of his reputation if he exposed corruption in law enforcement.
"He's going to get 'guilty' on probably every single charge that's on him. He doesn't have any choice if he wants to try to save any name he has left. He has to take the stand," Donahue said.
Steve Davis, whose late sister Debra is among those whom prosecutors claim Bulger killed, also suggested the defendant could give an insider's view of law enforcement corruption.
"If he chooses to bring down the corruption of the law enforcement locals, the state, the feds, I'd like to hear that," Davis said.
Testimony Wednesday from retired FBI agent James Crawford touched on Debra Davis' slaying.
---