Furloughed workers will get backpay when government reopens
The House voted unanimously and the Senate is expected to approve a bill to give furloughed workers back pay for the time they have to take off. Aside from that moment of bipartisanship, divide over the government shutdown continued.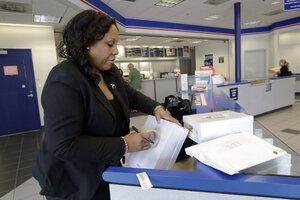 Patrick Semansky/AP
Congress and President Barack Obama have not yet found a way to end the US government shutdown, but they are reassuring 800,000 sidelined federal workers that they will be reimbursed for lost pay once the government reopens.
With the partial shutdown entering its fifth day, the Republican-run House passed a bill Saturday that would make sure the furloughed workers get paid for the days they could not work. The White House backs the bill and the Senate was expected to approve it, too, but the timing was unclear.
The 407-0 vote in the House of Representatives was uniquely bipartisan, even as lawmakers continued their partisan rhetoric.
"This is not their fault and they should not suffer as a result," Rep. Elijah Cummings, a Maryland Democrat, said of federal workers. "This bill is the least we should do. Our hard-working public servants should not become collateral damage in the political games and ideological wars that Republicans are waging."
Rep. Michael Turner, an Ohio Republican, said federal workers shouldn't have to worry about paying their bills while Congress and the White House fight over funding the government.
"They have child care expenses, house payments to make, kids that are in college, and while the president refuses to negotiate, while he's playing politics, they shouldn't worry about whether or not they can make ends meet," Turner said.
---