Battlefields will be big test for 'seeing' robot
In the next 18 months, the US is likely to deploy a potentially breakthrough robot-vision system in Iraq and Afghanistan.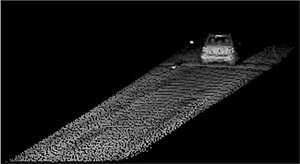 courtesy of irobot
For decades, military grunts have crawled into caves and stormed houses blindly, not knowing the layout of the enclosure or whether the enemy lay in wait. But in a year or so, the first man through the door might not be a man at all, but a robot the size of a toy wagon capable of navigating through the room and creating a 3-D map of it almost instantaneously.
The battlefields in Iraq and Afghanistan are likely to provide the first test for a potential breakthrough in robotics: the ability to "see" well enough and quickly enough to move through unknown terrain without human help. The US military plans to use the technology – three-dimensional flash laser radar (LADAR) – to remove bombs and search for casualties in chemically contaminated areas without giving up human control. Eventually, however, self-navigating LADAR could show up on Hollywood movie sets to enable special effects – or in your car to prevent collisions with pedestrians.
Until now, the ability to "see" well required computer-vision systems difficult to mount on anything much smaller than an SUV. Three-dimensional flash LADAR, by contrast, allows equally, if not more, sophisticated vision for much smaller machines.
"It's one of the holy grails of robotics to be able to do that," says William Thomasmeyer, president of the Pittsburgh-based National Center for Defense Robotics, a federally funded consortium of companies, universities, and government labs. "It's like the smaller robots have been trying to navigate with one arm tied behind their back when compared to larger robots.... [Now] that hand becomes untied for smaller robots, and they've got the same advantages in terms of sensors and sensing as larger robots do."
---