Pentagon asks for biggest budget hike since World War II
Besides its $515 billion request, the Defense Department wants another $70 billion to cover some of next year's war operations.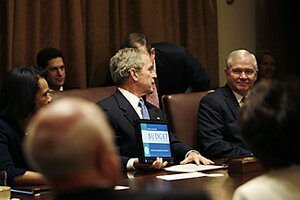 Pablo Martinez Monsivais/AP
The Pentagon is asking for more than $515 billion for fiscal 2009, the largest request ever, and a nearly 8 percent increase over the amount of money Congress awarded the Defense Department last year.
This request, adjusted for inflation, is the biggest since the end of World War II, analysts say, a symbolic move from an administration that often likens the war on terrorism and the commitment it believes the nation must make to the struggle against the Axis powers.
But the $515 billion is only the biggest piece of the Bush administration's request for fiscal year 2009. The White House is also asking for an additional $70 billion to cover war operations, just for the first portion of fiscal 2009, which begins in October.
"As the administration acknowledges, its $70 billion request for war funding likely represents only a down payment on next year's war costs," says Steven Kosiak, a budget analyst with the Center for Strategic and Budgetary Assessments, a think tank in Washington. "This means that at some point, either this administration or the next administration will have to request additional war-related funding for FY 2009."
In asking for the $70 billion now, and not this fall, when the money would actually be needed, the request is an effort by the administration to anticipate how long such requests would take to get through Congress, defense officials have said. Officials lament that Congress has yet to act on a war-funding request made last year. Although about $80 billion was already passed last year, another $103 billion has not yet been appropriated.
---