NATO extends Afghanistan tours
Britain and the Netherlands agree to longer tours, delaying a bigger US role in the mission.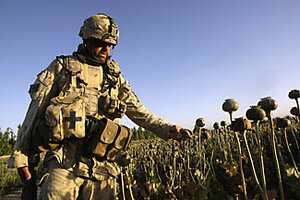 Peter Andrews/Reuters
NATO allies in Afghanistan have agreed to extend the length of their command tours in the volatile southern region, a move that for now will blunt calls for the US to assume a larger role there.
Defense Secretary Robert Gates concluded talks with his counterparts in Britain and the Netherlands last week in which they agreed to extend the length of each of their tours from nine to 12 months. For the last few years, the British, the Dutch, and the Canadians have shared responsibility for the southern region under NATO, taking turns at command. Under the new agreement, when Canada relinquishes its command in November, the Dutch will take over for a year, followed by the British, a defense official says. The US would then take over command in 2010, says Pentagon press secretary Geoff Morrell.
"With our increased troop commitment to RC [Regional Command] South, we will eventually seek a command rotation, but we are in no rush to take over and have confidence in the ability of our allies down there to lead the effort until then," Mr. Morrell says.
While the move appears to be a minor accommodation, analysts say it demonstrates the allies' commitment to the Afghanistan mission and takes pressure off the US military to seek a broader role more immediately in the region.
---