Older veterans now helping vets of Iraq and Afghanistan
Having 'been there' themselves, Vietnam veterans are better able to listen to and counsel younger vets troubled by their combat experience.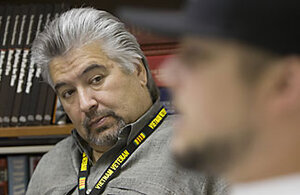 Fred Greaves/Special to CSM
William Rider had never seen the young stranger standing in his office doorway. But as a Vietnam veteran who'd spent decades helping himself and other vets struggling with psychological injuries, he knew that face.
"I saw a look in his face like terror. He didn't know what he was going to say or if he was going to be judged," says Mr. Rider, who cofounded American Combat Veterans of War (ACVOW), a volunteer group that counsels and advocates for combat vets diagnosed with psychological injuries. "He sat down and started telling us about his combat trauma and he was there for over four hours.... He's been coming back ever since."
Using veterans who have recovered from psychological injuries to help others through the healing process is a novel, even a controversial approach. But there's growing evidence of its effectiveness, and it's now gaining greater acceptance in the US and abroad.
The approach is both simple and profound: Providing a safe, nonjudgmental place where someone who's "been there" can simply listen.
"There is this enormous chasm of understanding between people who have been to war and civilians," says Jonathan Shay, an author and psychiatrist who treated psychological injuries during a 20-year career with the US Department of Veterans Affairs (VA).
Rider's group is one of many formal and informal government and civilian efforts helping a new and growing generation of veterans recover from psychological injuries that disrupt their lives and, at a growing rate, end them.
---