With its ship Kang Nam, North Korea tests UN's resolve
The US is tracking the cargo carrier as it moves through the Pacific, but the interdiction called for by the UN will prove tricky.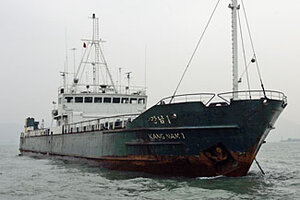 Vincent Yu/AP/File
The North Korean ship the US is monitoring in the Pacific Ocean offers a vexing first test of how far the international community can go to prevent the North from shipping nuclear materials, even as it works under a UN resolution that some say lacks teeth.
The US began tracking the Kang Nam after it left a North Korean port Wednesday, reportedly headed for Singapore. It is not known what the ship actually contains but American officials suspect it may be carrying banned nuclear-related material or equipment. They have begun monitoring the ship using US naval vessels and planes. The destroyer USS John McCain is also reportedly in the vicinity as part of the interdiction effort, according to Fox News.
The Kang Nam is the first vessel to be tracked under a new UN resolution aimed at preventing the North from shipping nuclear-related materials. The resolution passed last week after North Korea staged a missile test and a separate, underground test of a nuclear device.
But, because of concerns voiced by Russia and China, the resolution only authorized voluntary inspections of ships to and from the North. With North Korea unlikely to voluntarily submit to searches of its ships, experts say, it leaves open the question of what more the US or the international community is prepared to do to counter the North.
---