A new commander to train US drill sergeants? Yes, ma'am!
Command Sgt. Maj. Teresa King is first woman to head Army's only drill sergeant school.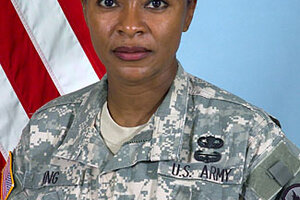 Courtesy of the US Army
In popular culture and in real life, the Army drill sergeant is the ultimate incarnation of macho bluster. On Fort Jackson's Warrior Training Ground in South Carolina, Command Sgt. Maj. Teresa King is about to redefine the role.
The 29-year Army veteran and sharecropper's daughter from Newton Grove, N.C., is taking over the reins of America's only drill sergeant school in September. She'll be the nation's first female yeller-in-chief.
Not that the premier US training ground for the straight-backed, merciless drill sergeant will suddenly go all soft and cuddly. Her nickname, after all, is "Sergeant Major No Slack." But her appointment does show the Army's growing willingness to put women into gritty warrior slots once reserved just for men.
"This is a male-centric part of the Army," says Sergeant Major King, noting that her appointment "shows that the Army is emerging and … they don't have any reservations about putting the right person where they need to be."
Commander corps is 5 percent female
Women have made major inroads into Army leadership since ranks opened in 1976, but top ranks remain partly barred. The Army has 57 women serving as commanders or generals, representing about 5 percent of the commander corps. But the overall percentage of female officers – 15 percent – exceeds the percentage of women in the active-duty ranks, 14 percent.
---