The Air Force's new poster boys: drone jocks
The service is putting more pilots behind a joystick to fly the unmanned planes crucial to today's wars.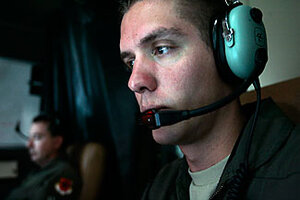 Tony Avelar / The Christian Science Monitor
If the Air Force needed a poster boy for the way it is adapting to the 21st century, it has high hopes that a young officer named Captain Bob will fit the bill.
Captain Bob can't wait to deploy in the cockpit of the F-16 jet he's trained to fly, but the Air Force has other plans for the young fighter jock.
As it scrambles to meet an exploding appetite for real-time video surveillance of the war zones in Iraq and Afghanistan, the Air Force is undergoing a seismic cultural shift, adapting to the needs of warfare today while pondering what it might look like tomorrow.
Bob, who asked that his full name not be used because of the sensitivity of his job, has for now turned in his G-suit to be a desk jockey with a joystick. His days are spent, not pulling Gs, but inside an air-conditioned trailer an hour from the Las Vegas strip.
From here, he flies a remote-controlled airplane over Afghanistan or Iraq to produce video feeds of those wars a world away. The images are fed immediately to troops on the ground to track the enemy, spot someone planting a roadside bomb, or monitor other insurgent activity.
Most agree that they are lifesaving images that can have an immediate impact in turning the course of the fight. But Bob didn't volunteer for this duty, and he isn't sure if he wants to make a career of it.
In many ways, Bob represents the rub within the Air Force, which still clings to the throb of the throttle while increasingly recognizing that warfare might not be what it once was. Whether the service can adapt to the often-sedate work of watching patches of empty Asian desert for hours on end could determine its relevance to the US war effort, at least in the short term.
For now, Bob is happy to salute smartly.
---